7 November 2019 
Acoustics 2019, the Australian Acoustical Society's annual conference will be held from 10-13 November at the RACV Cape Schanck Resort. This year's theme is 'Sound Decisions: Moving forward with Acoustics', and one of the world's leading authorities on noise and vibration monitoring will be on hand at the conference to answer your questions.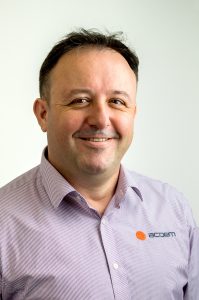 Patrice Pischedda, CEO, ACOEM Asia 
When it comes to moving forward in the field of environmental monitoring for noise and vibration, there are a number of questions that consultants and industry professionals should be considering:
How can you work effectively with various environmental protection authorities and agencies when each state in Australia has different standards and regulations?
How can you simplify the process of working with different limits, LDEN and weekend criteria?
How can you best leverage big data?
What do you need to know about smart cities and IOT?
Patrice Pischedda is Chief Operating Officer of ACOEM Asia, the parent company of 01dB noise and vibration monitoring solutions. He is also a globally respected thought leader in the field of environmental noise and vibration monitoring with more than 20 years' experience working closely with government departments and environmental agencies across the Asia-Pacific region.
His extensive work in the field and on the frontline of acoustic research makes him an expert in solving these and other critical questions that the industry is facing, especially as acoustic technology advances and government regulations evolve.
ACOEM 01dB has scalable and simple monitoring systems that are simple to use and deploy, especially with differing standards and regulations. Coupled with cloud-based reporting, compliance monitoring is now easier than ever.
The Acoustics 2019 conference is an ideal opportunity to learn more about the latest noise monitoring technology and meet with Patrice to gain access to his insight into the current state of environmental monitoring and what the future is likely to bring.
For more information about ACOEM 01dB instruments and monitoring systems, please visit Patrice and the ACOEM team exhibiting at Acoustics 2019 or contact Patrice at patrice.pischedda@acoem.com