3 March 2022

Accurate environmental monitoring is key to achieving sustainable goals for organisations and governments. It is therefore critical that monitoring systems themselves be precise – down to the millimetre, decibel and degree. That is where quality of service and calibration comes in. Acoem's state-of-the-art facilities, deep industry knowledge as well as industry-leading NATA certification, ensure that your monitoring hardware operates with maximum precision and efficiency, when you need it most.
Delivering 'back to original' calibration for monitoring equipment
There is a difference between calibration and 'manufacturer's calibration'. And it can prove to be crucial during your environmental monitoring project.
As people who know our sensors, monitors and devices inside and out, we make the difference. Our expert knowledge along with comprehensive and high-quality services, ensure that your instruments are returned in a 'back to new' status, in the shortest possible time.
At Acoem, we understand that accuracy of measurements goes beyond just ensuring the operational longevity of your instruments – accuracy of measurement has a key impact on your overall business ecosystem. This detailed approach to calibration has earned us the trust of customers from industries across Australia, New Zealand and the Asia-Pacific region.
Maximise your instrument's lifecycle
Whether your instrument is still under warranty, or needs an annual routine service and calibration, we perform all necessary testing to keep it in field-ready condition.
Acoem's one-stop calibration services also include any required software and firmware updates, so you can upgrade your monitoring ecosystem with a simple hardware or software refresh at one time, in one location.
Calibration that delivers the confidence of NATA certification
NATA accredited Acoem facilities and services[1] comply with the requirements of ISO 17025. Procedures are reviewed and audited every 18 months and follow best practice as required by the National Association of Testing Authorities (NATA).
While some companies carry a 'Traceable to NATA' claim, it is not the same as having your instrument calibrated by a NATA certified organisation.
As a NATA accredited organisation, Acoem has processes that are NATA compliant, the method of testing is quality assured and all work is performed by NATA certified technicians.
Moreover, a NATA endorsed calibration certificate can only be issued by a NATA-accredited facility like the Acoem Service & Calibration Centre.
NATA accreditation of the Acoem calibration laboratory ensures that:
All our technicians are certified & trained
We use validated procedures
Our references & standards have full traceability
We implement ISO 9001 quality management policies & procedures.
"Our focus is on enhancing service and calibration into a seamless experience that ensures shorter and predictable lead-times, while delivering the confidence of NATA certified calibration," said Yunesh Naidu, Group Operations Manager, Acoem Australasia (Ecotech Pty Ltd).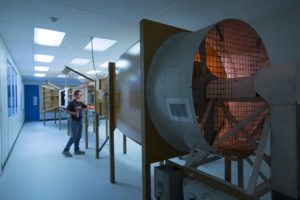 Acoem's Service & Calibration Centre wind tunnel is the only facility in the Southern Hemisphere that is NATA & MEASNET[2] accredited. Designed and manufactured by the Commonwealth Scientific & Industrial Research Organisation (CSIRO), it performs calibration of all types of anemometers
Streamlined processes for faster turnaround time
Our working methodology is based on a strong foundation of process disciplines and a philosophy of continuous improvement, which allows us to deliver service with excellence and uncompromising quality each time.
Acoem has accelerated the entire service experience by implementing the just-in-time (JIT) 'Kanban' system. This visual management system adds greater velocity to the service chain and ensures that jobs move from service, assessment and testing to delivery without hold ups.
This process is also applied to spare parts inventory, so technicians always have a kit of parts ready to use off the shelf. The desired outcome is to provide you with set turnaround times so your equipment is returned with minimal delay.
"Transparency in communication about the exact work required, the repair timelines and cost estimates have been the key to keeping our customers in the know at all times – and keeping them happy." outlined Leigh Seymour, Service Manager, Manufacturing Operations, Acoem Australasia.
Zero margin of error, 100% peace of mind
At Acoem our tolerance for error is zero, so that you can have the confidence to push your monitoring equipment to the limits. This means every calibration cycle delivers:
► Reliable performance
► Greater accuracy
► Minimize call-backs
► Increased calibration intervals
► Shorter downtimes
Faster access to world-class laser shaft alignment service & calibration
Service and calibration for Acoem condition monitoring and proactive maintenance systems are now part of our service offering at Acoem Australasia headquarters in Melbourne.
The Acoem Laser Shaft Alignment Service & Calibration Centre (formerly known as the Fixturlaser Shaft Alignment Service & Calibration Centre), relocated from Adelaide to Acoem's Melbourne facility in late 2021.
It is the only authorised service, calibration and repair centre for all Acoem shaft alignment instruments and geometric tools in Australasia. The move allows us to provide faster and higher standards of service and technical expertise.
"As our OEM supplier, Acoem's calibration quality is top notch, along with a service team that is highly responsive and great to work with. In the decade that I have worked with them, I have never been let down in terms of service excellence or delivery times."
Matthew Meere, Superintendent, Environmental Health & Hygiene, Mount Isa Mines
 For more information about Acoem Service and Calibration Solutions, please contact us on +61 3 9730 7848 or email@acoem.com.
Acoem Service & Calibration Solution Snapshot brochure
[1] Comply with the requirements of ISO/IEC 17025 & include testing laboratories, calibration laboratories & blast monitoring services in Australia.
[2] Measurement & quality evaluation procedures for anemometer calibration to ISO/IEC 17025.