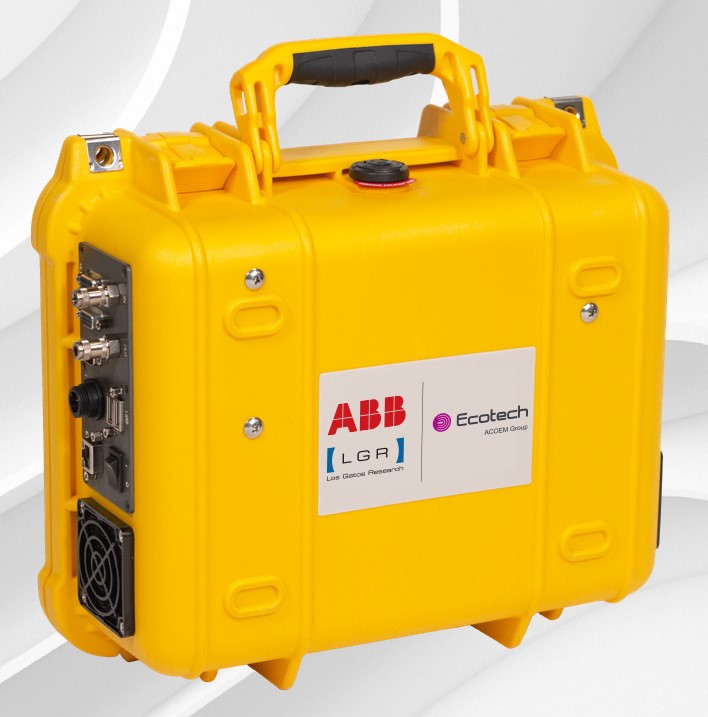 Nobody does microportables like Los Gatos Research (LGR). With its latest range of ultra-light yet highly accurate gas analysers, everything you need for the precise measurement and analysis of a variety of greenhouse gases is in one small yellow case – the LGR-ICOS™ M-GGA-918 and M-GPC-918.
Superior measurement of greenhouse gases in the field
Sensitive, fast and compact, the LGR-ICOS™ 918 analysers deliver exceptional performance in precision, sensitivity, linearity and extended dynamic range for reporting fugitive emission measurements of methane (CH₄), carbon dioxide (CO₂) and water vapour (H20) simultaneously.
The LGR 918 series is simple to operate, intuitive to use, has a three-hour internal battery and is significantly lighter than average weighing only 5.4 kg. Its streamlined user interface provides all the necessary options for fast data visualisation, data transfer, connectivity setup, comprehensive system health diagnostics and troubleshooting with external connectivity via WiFi, USB, ethernet, video or serial mode (RS-232).
It can easily travel with you, whether in the car or on the plane, and out into the field. The convenience of having laboratory standard equipment at an economical price, with the flexibility to take immediate samples on location – anytime, anywhere – make the LGR-ICOS™ 918 a significant asset to any environmental consultant or agency.  
Competitive advantage
"The latest LGR-ICOS™ M-GGA-918 and M-GPC-918 are the best microportable greenhouse gas analysers on the market today," noted Michael Preston, ECOTECH's Strategic Business Development Manager.
"The LGR 918 series boast improved stability and robustness, superior performance and accuracy. Unlike their competitors, the LGR analysers do not suffer from dust build up that can seriously affect the quality and reliability of data captured," he added.
Partnerships for environmental solutions
ECOTECH has long sought out innovative environmental equipment partners. Partners that share ECOTECH's commitment to protecting the environment. Los Gatos Research is one such company. Based on a successful working relationship spanning more than seven years, ECOTECH is LGR's exclusive distributor in Australia and New Zealand for the environmental, scientific and research sector.
LGR analysers are built on patented fourth-generation, cavity-enhanced laser absorption spectroscopy technique making them more rugged and more accurate. The technology also eliminates the requirement for sub-nanometer stability of optics, ultra-precise alignment or a high level of thermal control.
For more information about LGR-ICOS™ M-GGA-918 and M-GPC-918, visit the ECOTECH website, download the brochure or contact Michael Preston on michael.preston@ecotech.com.
About LGR: Since 1994, Los Gatos Research (LGR), a member of the ABB Group, has been developing innovative laser-based measurement strategies for non-destructive analyses of gases and liquids.  In October 2013, LGR was acquired by ABB to add a new line of high-performance gas analysers to ABB's leading measurement business. LGR now operates in ABB's global Measurement & Analytics business unit within the Industrial Automation division.
ECOTECH is the exclusive distributor of LGR in Australia and New Zealand for research and scientific applications.