21 May 2022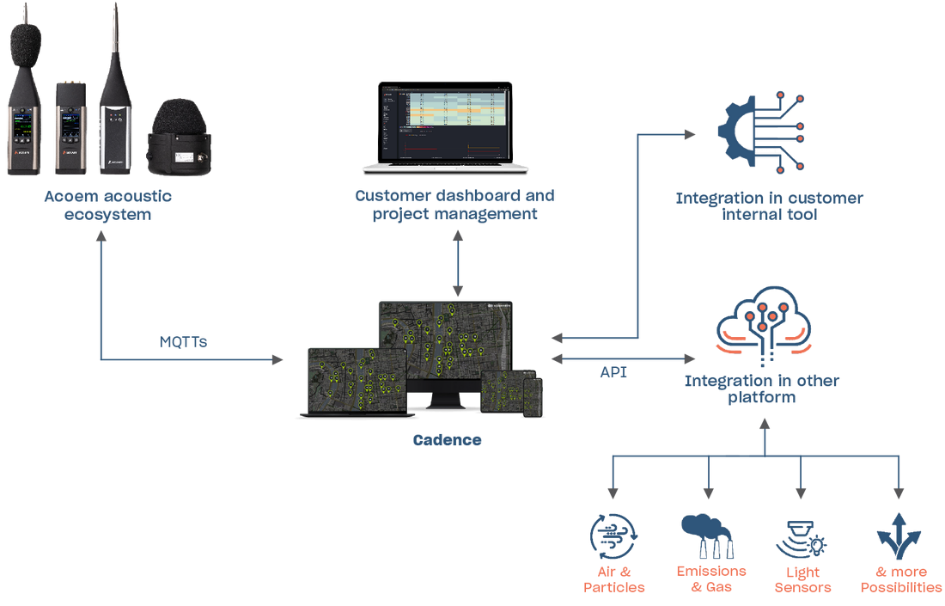 Cadence™ links all Acoem noise monitoring solutions using a single ecosystem
We've expanded Cadence™ to revolutionise the way you monitor and control noise pollution. A seamless conduit that connects all your Acoem noise monitoring instruments in one user-friendly ecosystem, Cadence™ gives you the power to transform your environmental data into actionable insights in real time.
One platform, endless possibilities
The ability to measure noise precisely and effortlessly is now at your fingertips. Cadence™ is more than a software platform. Using API technology, Cadence™ is your total application enabler. It's a dynamic ecosystem that adds immediate value to your data, by connecting all your monitoring devices and combining them with a Cloud-based delivery system that ensures your data is safe and secure using MQTTs protocol.
Real-time communication lets you take control of your noise monitoring projects no matter where you are. Make changes to your devices' configuration remotely, interact with captured data and use it to make informed decisions for cities, the local environment, schools and hospitals, building sites or mining operations.
Cadence™ – plug & play noise monitoring ecosystem
No matter which Acoem noise monitoring tools you use (Duo™, Fusion™, Cube™, Acoustic Threat Detection (ATD) or ACT-400™), how many projects you are conducting simultaneously or the type of application, Cadence™ is the ideal total data management solution.
"If you're one of the thousands of existing Acoem noise monitoring customers around the world, you can now connect your current device(s) using Cadence™ without needing to purchase any additional or new hardware," commented Mark Neaves, Eastern Branch Sales Manager, Acoem Australasia.
"It's as easy as opening a free Cadence™ account, establishing your security credentials and updating your firmware on any enabled device to see your data in real time. Cadence™ will transform your standard sound level meter to a fully connected instrument within seconds" he added.
Total project management
Cadence™ lets you pinpoint noise emissions faster and more accurately. Map your devices and manage the status of all your projects concurrently and remotely using its intuitive colour dashboard with fully customisable notifications and system alerts for exceedances or anomalies. Export your data to perform analysis and create reports with the click of a button. There's no limit to the capabilities and scalability of the Cadence™ ecosystem when it comes to the management of your environmental monitoring data.
Watch this quick video to start your Cadence™ journey or learn more about the expanded capabilities of Cadence™ by visiting www.acoem.com/en/news/the-expanded-cadence-platform