29 June 2022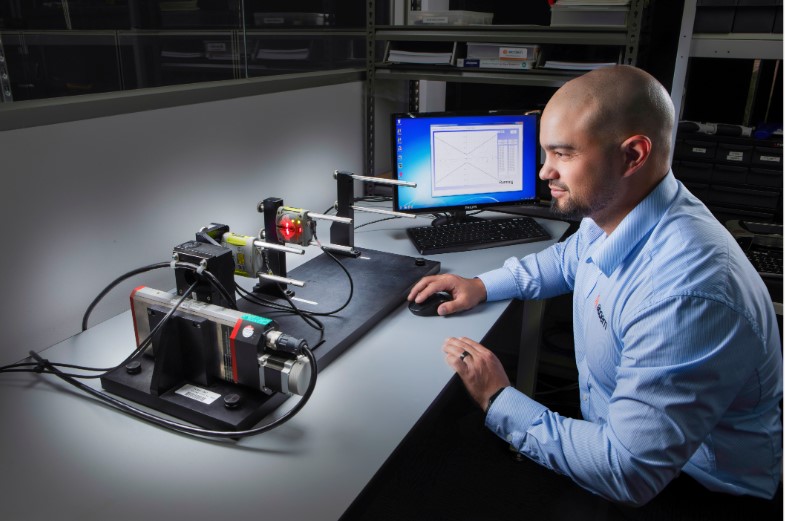 The integrated suite of Acoem noise monitoring and laser shaft alignment instruments is trusted by industries and governments worldwide to meet compliance and operational efficiency goals. Ensuring these instruments perform as they should with the highest degree of accuracy is a key focus area for Acoem Australasia. Acoem Australasia has taken the service & calibration of these instruments to the next level through a comprehensive staff training program that brings Acoem global best practices to Australia.
Committed to a higher standard of service and technical expertise
When it comes to calibration, a higher degree of learning is critical to ensuring the precision and the elimination of measurement uncertainty.
Leigh Seymour, Service Manager, Acoem Australasia, recently undertook an in-depth management training program in Sweden and France, visiting multiple Acoem service & calibration centres across Europe. The specialist "train-the-trainer" program equipped Leigh with the knowledge and expertise to upskill and enhance new and existing Acoem Australasia service & calibration team members about laser shaft alignment (Industrial Reliability Solutions) and noise and vibration (formally 01dB).
The core focus area of the program was on delivering high quality technical support across the Acoem noise monitoring range which includes Fusion™, Cube™, Duo™ and Orion™ as well as Acoem shaft alignment instruments and geometric tools.
The specialised and intensive training, conducted by Acoem's expert calibration instructors, detailed exhaustive calibration methods and various step-by-step directions on technical repairs and upgrades. The sessions also included training on enhancing the customer experience and answering specific queries about products.
A hands-on training program designed to create new service champions
The program was designed to be a deep dive into every component and part of the product range, with an emphasis on the 'why' and 'how' of calibration. The Australasian service & calibration team now has greater insight into the root cause of measurement deviations and can perform skilled instrument calibrations and repairs in the shortest possible time.
At Acoem, we pride ourselves on delivering industry-leading calibration services, while accelerating the learning curve of our calibration specialists.
Going forward, this best practice approach will empower the team to create new service champions with the strongest foundation in process disciplines and a philosophy of continuous improvement — allowing our team to deliver service with excellence and uncompromising quality each time.
"Overall, this training has broadened our knowledge base, enabled us to further
establish training methods into SOPs [standard operating procedures], given
greater confidence to our sales team to deliver on promises, and strengthened
the service & calibration ecosystem at Acoem Australasia", outlined Leigh [pictured left].
For more information about the Acoem Australasia Service & Calibration Centre, or solutions from the noise and vibration and Industrial Reliability ranges, contact us at email@acoem.com.