Overview
Around the 11th January 2019 the Microsoft Security Essentials virus definitions were updated causing a false-positive match on the MALT5 executable. This resulted in the executable being quarantined. If you have encountered such errors please follow the instructions below to apply the fix.
Symptoms
The most visible symptom of this action is a failure of the analysis of the spectra files in the Spectronus software. Spectronus will report: "SpectrumAnalyser : Call to batch file failed with exit code 1", which effectively means that the executable is missing.
Additionally, if viewing the About dialog in Spectronus, the MALT5 version details will be unavailable.
Resolution
While the missing MALT5 executable can be "un-quarantined" it is safer to download and install a new MALT5 executable. In order for the new file not to be quarantined the following steps should be performed:
Open the Microsoft Security Essentials (or Windows Defender) application by clicking on the MSE symbol, this looks like a house with a flag (or castle in the case of Windows Defender)
On the Settings tab select the Exclude Files and Locations menu item in the left-hand-side.
Click Browse and navigate to the Malt installation directory, which should be C:\Program Files\Ecotech\Spectronus dotNet\Malt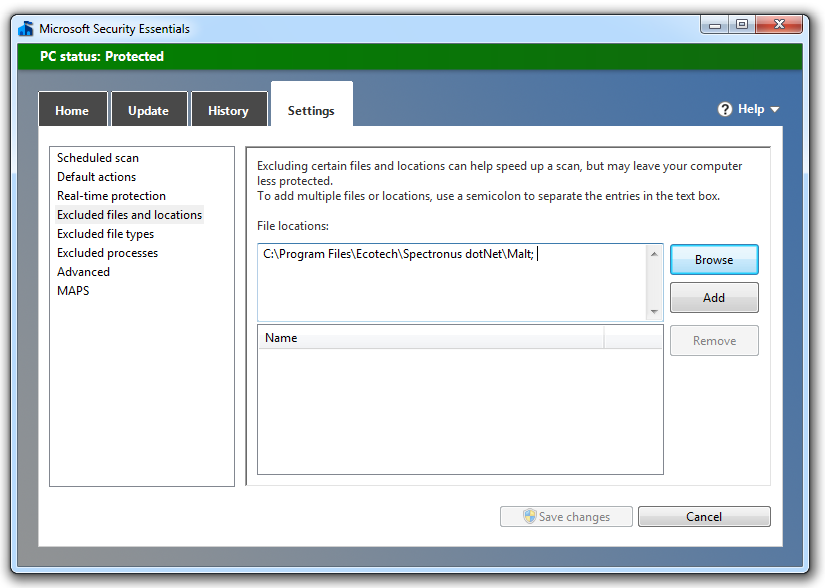 4. Click Add to include the folder to the exclusion list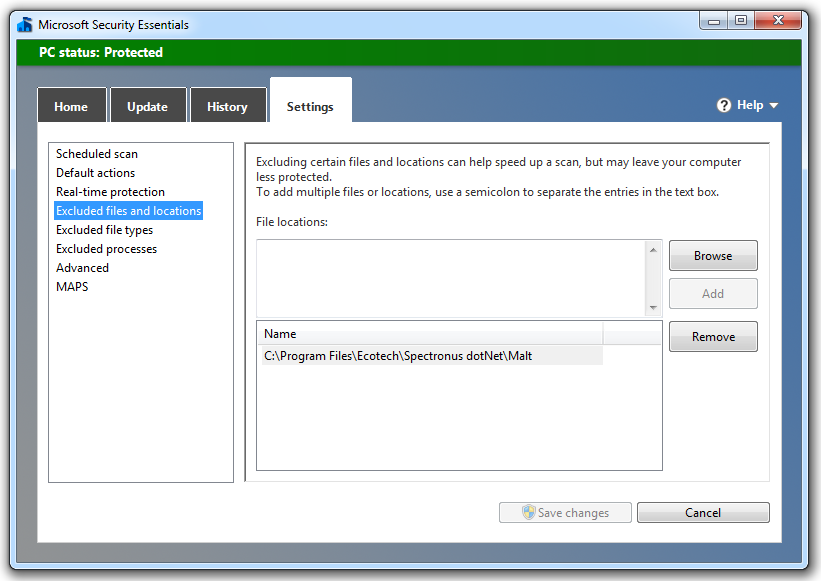 5. Click Save Changes, you will need to do this with Administrator elevated permissions
6. Download the new MALT5 file from the .zip file, or the ECOTECH website and extract it into the Malt installation directory
7. Restart the Spectronus application and check the Malt version details in the About
Download this page in PDF format and the application needed to complete the instructions in a .zip file here