For over 50 years, Acoem has been empowering global governments, academia and organisations to strike a balance between progress and preservation by providing them with an integrated ecosystem of sophisticated environmental monitoring solutions.

Acoem India has been playing a key role in delivering these world-class solutions. Strategically located to the key growth markets in South Asia and the Middle East, we are expanding the accessibility of Acoem products and turnkey solutions to these regions and beyond.
Acoem India
Made in India. Made for the World.
Acoem's India story began from the inception of its factory in the vibrant multicultural city of Pithampur, Indore in central India. Today, this world-class manufacturing facility is at the forefront of designing and manufacturing class-leading multi-parameter environmental monitoring and industrial reliability solutions.
An ISO 9001:2015 and ISO 45001 certified plant, it is equipped with state-of-the-art capabilities to manufacture products for local and international markets. The processes here follow the same stringent quality processes and high standards of excellence implemented across all Acoem manufacturing locations.
Beyond the manufacturing facility, Acoem India has grown to 4 regional offices within India, complemented by 150+ employees and a vast network of approximately 200 sales & field service engineers. This cohesively enables key advantages of speed, scalability, and consistency in delivering solutions across all critical customer requirements.
4 Office Locations

Vadodara

Indore

Delhi NCR

Hyderabad

Pan-India network of service engineers
Remote diagnostic centre and repair & calibration centre at Vadodara
Take a virtual video tour of the Acoem India facility and discover how our team is delivering on the promise of creating environments of possibility.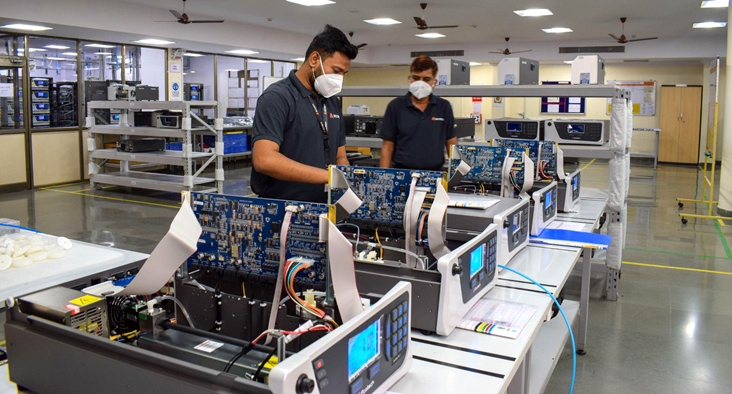 View our Solutions Snapshot (India) Brochure.
Click here to find your local Ecotech distributor in India.
Acoem Ecotech Industries Pvt Ltd
Plot No 57 Pithampur Sector 2
District Dhar
Madhya Pradesh 454775

Indore India

Ecotech Monitoring Solutions Pvt Ltd
#402 4th Floor
Panchscheel Complex
Nizampet Telengana 500090
Hyderabad India
India Office Addresses:
Delhi Branch Office
B-214, Noida One, B-8, Sector-62
Delhi NCR 201309 , Uttar Pradesh
India
Tel : +91 72 2904 4243
info.in@acoem.com
Vadodara Corporate Office
Ground floor, Alembic City, Alembic Road
Vadodara 390023 , Gujarat
India
Tel : +91 72 2904 4203; +91 265 6180 700
info.in@acoem.com
For more information, please visit acoem.com/worldwide
India Distributor Information:
Distributor of aerosol monitoring and research products
Mr Gopakumar Chandra – Director / Mr Satyanarayana Pabbathi – Vice president (Technical)
Tesscorn Systems India Pvt Ltd
1285, 5th Main
17th Cross, HSR Section 7
Bangalore 560068 India
Phone:
+91 80 2572 9425
satyanarayana@tesscorn.com
www.tesscorn.com
Read the following India stories here: